26 December 2017, Tuesday
Statistics, work areas and geographical spread of our activities in 2017
Our lawyers submitted 25 applications to the ECHR in 2017. As in the past, most of the applications concerned violation of the right to life. We submitted 13 applications on behalf of 49 applicants who have suffered as a result of extra-judicial executions or forced disappearances.
On March 29 2017, the ECHR registered the application concerning the disappearance of victim of domestic violence Maryem Aliyeva. We had stated the ineffective criminal investigation in this case. The authorities knew that Maryem Aliyeva's husband was beating her but took no measures to protect her life. This case raises issues concerning the state's positive obligation to protect the right to life and prevent cruel treatment and discrimination.
We submitted four applications concerning cruel treatment and torture in 2017. For example, on May 12, the ECHR registered the application of Leyla Chemurziyeva, who was injured in 2015, when she came under fire during a security forces operation in Nazran. Law enforcement and security officials arrested the injured woman while she was in hospital and accused her of being involved in an armed group's activities. Chemurziyeva stated repeatedly that she gave evidence under torture while in hospital. Her lawyer, who works with Justice Initiative, called for the prosecutors to ensure oversight of the investigation in this case and to identify and bring to justice those who used torture against her, but the district court found her guilty and did not exclude the testimony given under torture. The application cites violations of articles 3 and 6 of the European Convention on Human Rights.
We have an increasing number of cases concerning family rights. We submitted 8 applications in this area in 2017. They concern cases of discrimination against women and domestic violence. For example, the ECHR registered an application from a woman in Ulyanovsk on August 22 2017. Her former de-facto husband has been persecuting her for some time now. He abducted her and her son on several occasions and even made an attempt on her life by damaging the brakes on her car. Since April 2015, the woman has repeatedly gone to the police to report beatings and murder threats by her former partner. The police refused to open a criminal case and practically all of her complaints met with no response from the authorities. Her application to the ECHR cites violation of procedural aspects of Article 2 of the European Convention on Human Rights.
The ECHR, like in the previous year, continues to use the priority communication procedure in cases concerning custody of children. For example, on November 24 2017, the ECHR communicated the application of Asya Gubasheva, which we submitted in May 2017. Gubasheva's application concerns non-enforcement of the court decision giving her custody over her daughter (Article 8) and absence of means of legal protection (Article 13). Inaction by Russia's bailiffs means that Gubasheva has not seen her daughter for more than 3 years. We are currently handling 17 cases concerning custody of children. Some of these cases are settled at the national level.
On December 14 2017, a case that Justice Initiative lawyers had been handling since 2015 was settled at the national level. The Supreme Court of the Republic of Ingushetia ordered compensation paid to Adam Daurbekov for moral damages suffered after he lost his wife and new-born child due to doctors' negligence at the maternity ward at Malgobek hospital. Justice Initiative's lawyers helped Daurbekov obtain compensation in national courts of 1,300,000 roubles.
In 2017, Justice Initiative expanded its areas of work and geographical scope and is now offering legal assistance not just in the North Caucasus republics but is also working with applicants from Arkhangelsk, Volgograd, Irkutsk, Kaliningrad, Leningrad, Novosibirsk, Orenburg and Rostov regions and from Stavropol and Khabarovsk.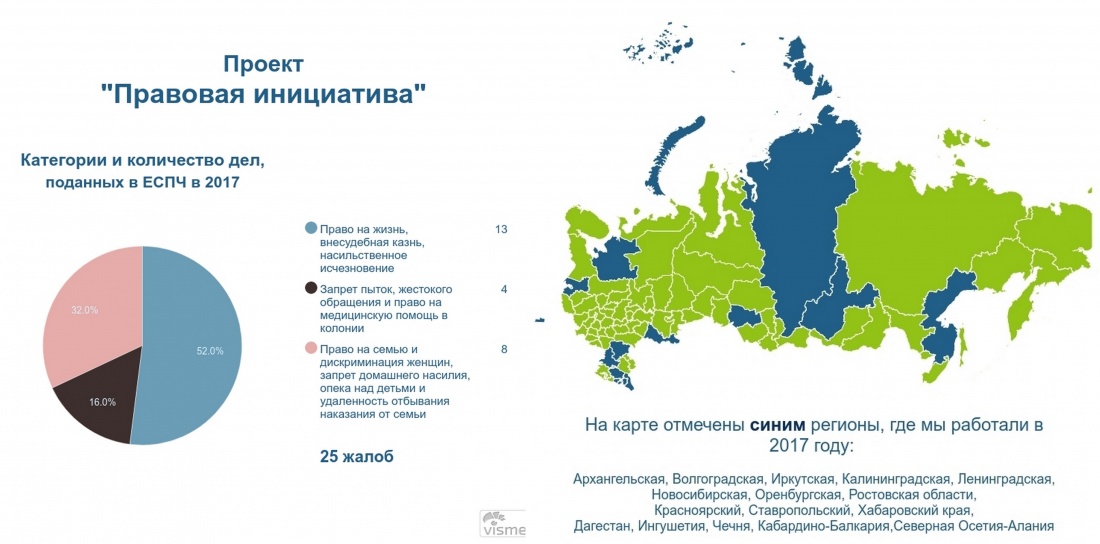 [information for table]
Justice Initiative project
Categories and number of cases submitted to the ECHR in 2017
Right to life, extra-judiciary execution, forced disappearance
Ban on torture and cruel treatment, right to medical assistance in prison facilities
Family rights, discrimination against women, ban on domestic violence, serving prison sentences far from one's home
25 cases
The map shows in blue the regions where we worked in 2017: Arkhangelsk, Volgograd, Irkutsk, Kaliningrad, Leningrad, Novosibirsk, Orenburg and Rostov regions, Krasnoyarsk, Stavropol and Khabarovsk territories, republics of Dagestan, Chechnya, Ingushetia, Kabardino-Balkaria, and North Ossetia-Alania
In 2017, the ECHR ruled in the interests of 12 applicants in four cases brought with the help of Justice Initiative. The Court awarded them compensation for moral and material damages totaling 145,250 euros.
In 2017, lawyers with Justice Initiative worked on ensuring enforcement of ECHR rulings, including in the case of Arsan Mukayev, a case on which the Court delivered a ruling on March 14 2017. The Court awarded Mukayev 45,500 euros, recognizing that he was subjected to torture while under the control of state agents (violation of Article 3) and that he gave evidence under torture, and so the trial in this case should be considered unfair under Article 6 of the Convention.
On November 21, 2017, the ECHR ruled on the case of Kaimova and others vs the Russian Federation, obliging the Russian government to pay to the Kaimov family moral compensation of 24,000 euros for the death of the applicant's son, Moldy Kaimov, in a prison facility from tuberculosis after the authorities took none of the measures necessary to protect his health and life.
Justice Initiative's training and educational activities
In 2017, the lawyers working with Justice Initiative conducted 24 training courses for defence lawyers and a summer school for law students. This gave both experienced professionals and lawyers just starting their careers opportunities to develop their skills. Taking part in the training events were 450 lawyers, jurists, psychologists, social workers, teachers, police officers, medical workers, and students from Dagestan, Ingushetia, Kabardino-Balkaria, Chechnya, Ulyanovsk, Pskov and St Petersburg.
In 2017, we launched an interregional project to help women and children who have been victims of violence in the family. The project provides lawyers free of charge to victims, as well as professional psychological help.
The interregional project also included educational work, overseen by lawyer Yulia Antonova. "In 2017, we set the goal of providing continuing professional development for lawyers specializing in the rights of women and children to protection from various forms of violence", Antonova said. "We got specialized professionals to take part in this project so as to learn to make use of various inter-agency cooperation instruments in situations of violence in the family. We explained the powers professionals have in situations where women and children face violence and got experienced medical experts involved in the training courses".
Documentation on the subject was elaborated over the course of the year and two information campaigns took place, one in Pskov Region and one in Ulyanovsk Region.
General statistics for Justice Initiative's work in 2000-2017
As at the end of 2017, lawyers with Justice Initiative had submitted 399 applications to the ECHR and other international bodies. The applications concerned forced disappearances, violation of the right to life, violation of the bans on torture, cruel treatment in prison facilities and medical facilities, and domestic violence.
We represent the interests of 1,675 applicants, all of them victims of serious human rights violations. The ECHR has already ruled on 192 of our cases and 980 applicants have received compensation for moral and material damages for a total 17,908,539 euros. 695 people await decisions or rulings on their applications.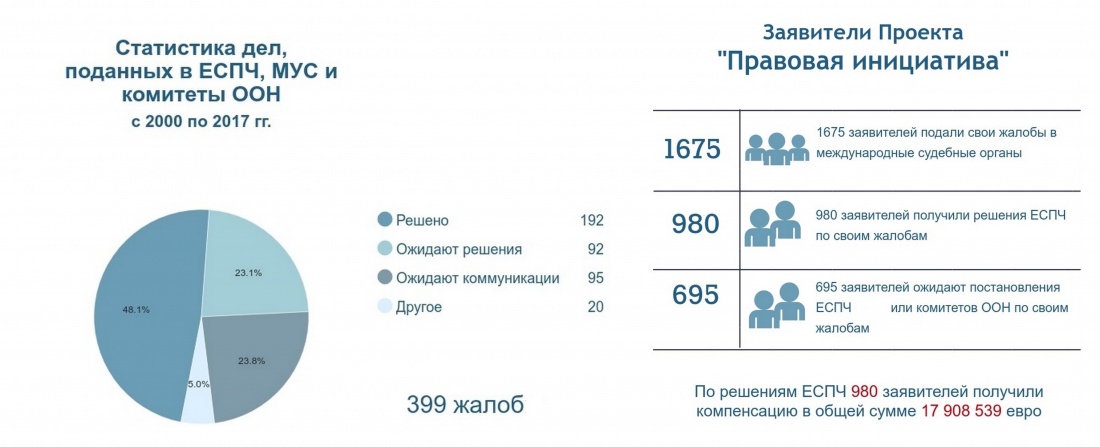 [information for table]
Statistics for applications submitted to the ECHR, International Criminal Court and UN committees from 2000 to 2017
Decided - 192
Decision pending - 92
Communication pending - 95
Other - 20
399 applications
The Justice Initiative project's applicants
1675 applicants submitted applications to international judicial bodies
980 applicants have obtained ECHR rulings on their applications
695 applicants await ECHR or UN committee rulings on their applications
The ECHR has awarded 980 applicants total compensation of 17,908,539 euros