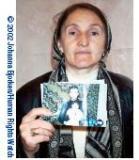 In mid-December 2000 Said-Khuseyn was driving to his home in Novye Atagi when he was detained by Russian forces at a roadblock. Several witnesses saw him being forced into a military vehicle that drove off in the direction of Novye Atagi. He has not been seen since, and the Russian authorities have failed to hold anyone accountable for his disappearance.  
In February 2002 Said-Khuseyn's parents, Said-Magomed and Marzet Imakayev, assisted by the Stichting Russian Justice Initiative, lodged an application with the European Court of Human Rights. Four months later Said-Magomed was detained at his home by a group of armed men, and subsequently disappeared. 
The Russian authorities initially denied responsibility for the detention of Said-Magomed, stating that the main version investigated by the authorities was that Said-Magomed had been kidnapped by members of a terrorist organization disguised as Russian military forces to discredit the authorities. In August 2004, the Russian authorities admitted that they had detained Said-Magomed, but claimed that he had been released the same day. 
Marzet was later subjected to intimidating interrogations by the Russian authorities regarding her application to the Court and was forced to flee  Russia out of concern for her family's security. 
The detention and disappearance of Said-Magomed Imakayev is a particularly egregious example of the kind of intimidation Chechen applicants face in their pursuit of accountability for human rights violations committed by federal forces in Chechnya. 
On 9 November 2006 the European Court of Human Rights unanimously held Russia responsible for the detention and presumed death of both Said-Magomed and Said-Khuseyn Imakayev and ordered the Russian government to pay over 90,000 euros in compensation.

Court documents:
Imakayeva v. Russia 
Press-release judgment 
Imakayeva v. Russia (admissibility)

Reports by NGOs:

IHF and NHC
:
The Silencing of Human Rights Defenders in Chechnya and Ingushetia
(09/04)
HRW:
The "Dirty War" in Chechnya
(03/01)