18 November 2015, Wednesday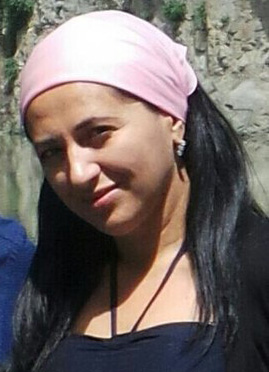 Photo: Marem Aliyeva
On 18 November 2015 a criminal case was opened by the Investigative Directorate of the Investigative Committee of Ingushetia into the murder by unknown persons of 37-year old Marem Aliyeva. The case was opened on the basis of statements submitted by Marem's sister, Elizaveta.
Russian Justice Initiative (RJI) has been providing legal support to Elizaveta Aliyeva since her sister disappeared this past September. However, the necessity for action on the part of law enforcement was evident long before, at the early stages of this domestic conflict.
RJI obtained from Elizaveta a number of statements that she and her sister had sent to law enforcement over the course of several years, in which they complained about domestic violence and threats of violence, and requested the provision of security measures.
As recounted by Marem and Elizaveta Aliyeva, Marem's husband Mukharbek Yevloyev used to shave his wife's head, regularly beat her—even during her pregnancy—and cut off the tip of her thumb.
According to one of the statements, on 7 July 2015, Marem again tried to escape from her husband. On 9 July, Yevloyev and five armed men burst into Elizaveta's house, looking for her sister and demanding that she return home. The men beat Elizaveta and her husband, forced them into a car and drove away in an unknown direction. Fortunately, they were freed when the police stopped the car, but they took no action against the perpetrators, even after Elizaveta made a formal statement to the police about what happened.
On 16 July and 12 August 2015 Marem and Elizaveta again appealed to law enforcement to protect them, but they received no response.
Then on 24 September 2015, Elizaveta submitted in a statement to RJI that her frightened sister had called her on 19 September, saying that her husband had told her that she "would receive a surprise tonight and that he would get even with her for running away and complaining to the authorities." A short time later, Marem's phone was turned off. When Elizaveta arrived at her sister's house, she saw Marem's three children sitting in the courtyard, crying and saying that they had seen their mother's hair all bloodied.
Elizaveta immediately submitted a statement to the police about the commission of a crime, but there was no reaction.
After she began receiving threats, Elizaveta submitted a request on 2 October 2015 to provide her and her children official victim protection measures, but she received no answer.
On 18 October 2015, a grenade exploded in Elizaveta's courtyard. On-duty police officers arrived to collect the fragments of the explosive and document the scene. An expert concluded that the explosive device had been an "F1 type grenade."
Notwithstanding Elizaveta's statement from 24 September 2015, the opening of the criminal case became possible only after Elizaveta submitted a complaint concerning the negligence of the investigating authorities to the local court. Currently, Elizaveta has been recognized as a victim in the criminal case concerning the murder of her sister, although the decision to open a criminal case cites the fact that Marem "left the house on 19 September and went off in an unknown direction." RJI aims to ensure that an effective investigation is carried out into the circumstances of the crime.