18 December 2018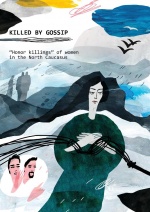 An analysis of "honor killings" illustrates that they are motivated not by tradition, custom (adat) or the norms of Sharia law, but rather by the arbitrary and self-styled ambitions of individuals and clans. The practice is borne out of and incited by the pressure of public opinion, gossip, rumors and slander.
1 June 2018
The second report, "The practice of female gential mutilation in Dagestan: strategies for its elimination," presents the results of further unique field research about the attitude of men to the practice, in general as well as in regard to their own wives, daughters or other female relatives.
6 March 2018
In the context of the 2008 armed conflict between Russia and Georgia, SJI submitted dozens of applications to the European Court, the majority of which concern alleged serious violations of human rights and humanitarian law committed by the Russian Federation. The remaining applications concern alleged violations committed by Georgia, or jointly by Georgia and the Russian Federation.